Wednesday Cover Story: The sadness and madness of riots
It is not surprising that today I have chosen to feature the cover to A Bespoke Murder, the first book in Edward Marston's upcoming new crime series set in the First World War. The book opens just after the sinking of the Lusitania which sparked a wave of anti-German riots and arson attacks in London and other cities across the UK (and indeed the world).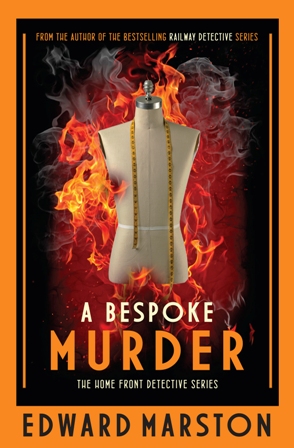 Now this cover image (evoking the incident in the novel where a tailor's shop in burnt down) should have merely reflected terrible events that happened almost a century ago, and yet now it reminds us of the pictures of wreckage and burning buildings strewn across the news and YouTube these past few days.
Whilst there is of course a marked difference between the 1915 riots and the current ones (the recent violence was not directed towards anyone in particular, and focussed on the destruction and looting of property rather than the direct and brutal harming of citizens) reading parts of the second chapter of A Bespoke Murder feels uncomfortably familiar. And, ultimately the aftermath is always the same – fear, sadness and loss.
Whilst there is no justification for savagery, the 1915 riots were one of many sad and frightening events in World War history. It was a time of extreme tension and wartime histeria – fertile ground for madness. Indeed we have unfortunately come to accept brutality, hatred and blind revenge as being synonymous with war. But to think that today our society can host such festering discontent in life, such total disregard for one's own community and such simple opportunistic greed, that it is capable of unleashing the immorality and madness of a wartime era, well, it feels sadder and madder still.
Chiara Priorelli, Publicity & Online Marketing Manager