Wednesday Cover Story: The Finkler Question
So there you have it. The Finkler Question, by Howard Jacobson has just won the Man Booker Prize. (Congratulations!).  And looking back at our earlier blogs this week, perhaps we should have seen this coming?? On Monday, Lara blogged about attending a recent Man Booker author-reading event, and whilst she said she had her money on Room winning the award, it was in fact The Finkler Question that won her over that evening. And yesterday, Georgina's blog played homage to the comic novel, with the hope that we'd see more rising comic stars. Well, it seems Jacobson not only won Lara over, but the Booker judges too, and perhaps they felt the same way as Georgina did about the need for, and merit of, a good ol' fashioned laugh.
But whilst we've all agreed that the content of the book is to be commended, what about the packaging? What do you think about cover?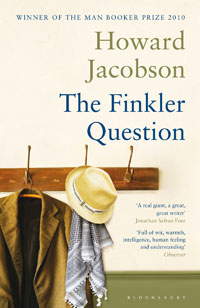 I find it "perfectly satisfactory" for want of a better way to describe it. It doesn't say too much. It does not offend, nor is it very memorable.  It has the look of a classic novel. It certainly doesn't scream humour but instead has a degree of seriousness to it. And now, having read Jacobson's recent article in the Guardian about the need to take the comic novel seriously, perhaps this was very deliberate –  to package the comedy in something with more gravitas.
So, is this an example of successful subliminal marketing…targeted at the literary critics? I don't think this cover would coax the average bookshop browser to choose it amongst the piles of other books on the shop tables. But I can't help but ask myself – did the cover played a small part in helping the book reach the Booker list, and be considered to win the prize?
It is a comedy, but the cover says it should indeed be taken seriously. And yes, I have to admit (without having read the novel) it looks as though it belongs amongst award-winning classics – and who knows if, on a subconsious level, that is what the judges thought too…
Chiara Priorelli, Publicity & Online Marketing Manager
Want to flag up a cover for our Wednesday Cover Story? Write to chiara@allisonandbusby.com with your thoughts