Wednesday Cover Story: Sneak peek of new Lake District mystery
The new Lake District mystery by Martin Edwards, The Frozen Shroud, will be out in June and advance copies came in the other day.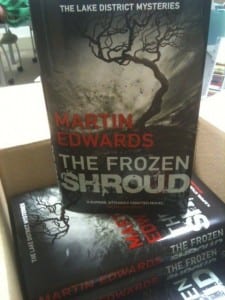 We originally started printing this series with matte covers but gave the last book, The Hanging Wood a glossy finish instead to make the yellow tone more vibrant and eye-catching. It was a good move and we've kept the gloss approach with the new book, which I think works particularly well here. As I pulled the books out of their box, the light hit the covers giving the grey colouring a silver shimmer which is very striking.  That gloss effect adds to the image itself, that backlit sky, almost giving the impression that the glossy glow is emanating from the burst of light in the background.
My favourite cover in Martin Edwards Lake District mystery series.
Chiara Priorelli, Publicity & Marketing Manager