Wednesday Cover Story: I Hate Christmas (but I now love sprouts…)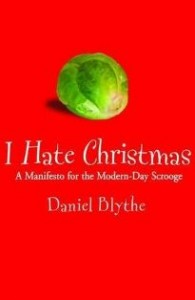 This has got to be one of my favourite covers on our list. Simple and to the point.
And how lucky we are that the brussel sprout, that un-loved Christmas vegetable, is green and not, for example, orange. The Christmas colouring for the cover just wouldn't have worked, would it…
But on this subject of sprouts, I'd like to lift the culinary spirit of any Scrooge out there and put a positive spin on brussel sprouts this year with a brilliant way to cook them: cut sprouts in half, place cut side up in a oven tray, generously drizzle olive over them and sprinke with salt (cracked rock salt works best) and cook in the oven at a high temp (200*C-220*C) for roughly 20 minutes until the top of the sprouts brown/burn nicely. Serve up – you'll be popping them in your mouth like popcorn!
Like the i Hate Christmas cover, this recipe is simple and effective. (And in this case delicious.)
Chiara Priorelli, Publicity & Online Marketing Manager
Want to flag up a cover you love or hate for our Wednesday Cover Story? Write to chiara@allisonandbusby.com with your thoughts