Wednesday Cover Story: Don't Judge a Reader by Their Book Cover
So the Fifty Shades of Grey phenomenon rages on. For two days running now we've had a hot and heavy discussion in the office about people reading it in public. What happens when commuting readers get to a naughty bit? Do their pupils dilate? Do they blush and start squirming in their seats? Have you been caught reading over someone's shoulder trying to get an inkling of just how saucy the book really is? Does that make you a peeping tom?
Will Gompertz wrote an amusing article earlier this week , in which he surmises that a very small percentage of sales are being consummated at the tills in bookshops. Digital sales are obviously experiencing one climax after another but physical book sales are mostly being transacted online – Amazon must be ready to explode with pleasure.
So, are people embarrassed to be seen reading Fifty Shades of Grey?  Interestingly there's nothing on the cover that intimates the raunchy shenanigans (did I just write that? Just when did I turn into my mother?)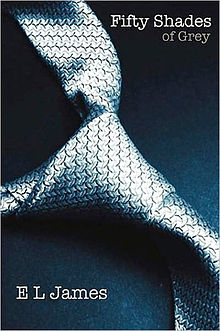 There are no half-naked men, or swooning trussed-up damsels. Is this the secret to its success? A cover that could really be Fifty Shades of Grey – how to get ahead in business. Will the new wave of copycat erotica follow suit? Would love to hear readers' thoughts.
Lara Crisp, Editorial Manager