Wednesday Cover Story: A page of book covers…
Anna Jacobs, author of Cherry Tree Lane – the first book in her Wiltshire Girls series – has just launched her new website. Amongst the features on the website is a page simply displaying all and only her book covers –  a most colourful array of book covers I might add.
Check out Anna Jacobs book cover page here.  And see if you can spot Cherry Tree Lane amongst them all…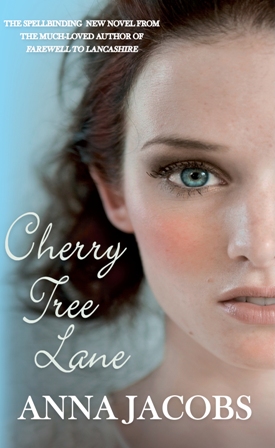 Ok, I might be biased, but I do think it stands out from the crowd. Whilst still featuring a woman on the cover it has a decidely more modern design compared to the rest. Would you agree?
Of the others, I am drawn to Licence to Dream and In Focus which again have a more modern look.
It's a nice idea showcasing all of one's book covers like this. Not only does it create a visual sense of achievement and allow for an interesting comparison of different designs, but looking at this beautiful page brings to mind the fact that whilst you can buy plenty of posters of enlarged book jackets, what about a poster made up of hundreds of book cover thumbnails? I'd happily hang it on my wall!
(Oh, darn it – have I just given away a great little business idea…?)
Chiara Priorelli, Publicity & Online Marketing Manager
Want to flag up a cover you love or hate for our Wednesday Cover Story? Write to chiara@allisonandbusby.com with your thoughts