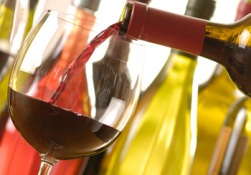 For Valentine's Day you could have found me and the other half squinting in rapt concentration, aiming for a swirl (but slopping more instead) and making some interesting noises through pursed lips under a London railway arch. Sounds romantic, no?
Guided through a systematic approach to wine-tasting in the Vinopolis caverns around London Bridge, we attempted to be slightly more intelligent than usual in our quaffing of wine. It was great fun, with a wide selection of everything from champagne to absinthe, and I'd highly recommend it if you're in that area of London.
Even better Vinopolis is currently part of the 2 for 1 by Train deals you can find here. Occasionally there are perks to being a commuter.
Lesley Crooks, Sales & Digital Manager