My older brother Matthew turned twenty-nine last week and as usual I struggled to find the perfect book. (We are an entire family of book-givers) He works as a journalist/tour guide in Berlin so loves anything based on German history or culture.
But Matthew's birthday was fast approaching and my lack of German history titles was becoming ever more apparent. So I did the only thing I could – I gave him a fable instead. I have a signed edition of Neil Gaiman's new book The Ocean at the End of the Lane (an afternoon well spent in Goldsboro books). It's a rich and haunting fairytale that moves between the world we live in and the thin margins that separates us from everything outside of it. Much like our own Bitter Greens, it is not a fairytale for children.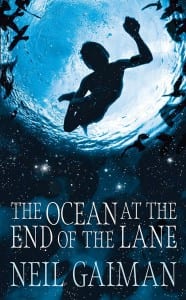 I prepared myself for sniggers or a hesitant acceptance. But instead I received an e- mail this morning from Matthew declaring his love for the book and a promise to seek out Gaiman's earlier work. Sometimes the most unexpected gifts are the best ones.
What surprising presents have you received? Were they good or bad?
Sophie Robinson, Publishing Assistant