For three months of last year, I was a commuter. I didn't change from comfy shoes when I got into the office but I did have a 'spot' on the platform, which I liked to wait at, opposite some ornamental graffiti. Whilst my regional network provider was one of my least favourite people on the planet, ever since I rode Thomas the Tank Engine on the Watercress Line in Hampshire aged 4, I've enjoyed train journeys; an enforced length of time to sit still, read a book and let someone else worry about getting you from A to B (or not, as is more likely).
This month, South West Trains are running a 'Winter Smiles' deal, by which for £10 you can run off to another part of the country for the day. Visit one of 195 destinations on any Saturday or any Sunday from 18 January to 23 February – and kids go for £5. Why not pop the Railway Detective Collection onto your e-reader and visit somewhere/someone you've been meaning to see for a while…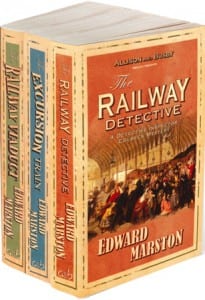 Recommended reading            
Kathryn Colwell, Publishing Assistant
P.S – don't miss out if you live further north! Virgin trains are also running some great deals, with tickets from Manchester and Liverpool to London, for £12.50, click here for info.