To invest or not invest in Art?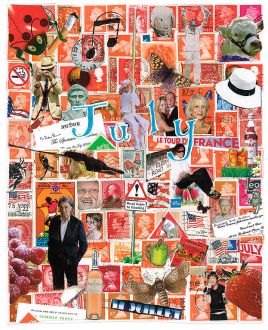 Today, on my usual lunch-time wander, I passed the Rebecca Hossack Gallery on Charlotte Street. who happened to be having a one-day sale of some of their artists' work. The display included a few pieces from Adam Barrow's limited edition Letters and Months series – quirky collages made up of postage stamps and iconic images (as pictured) – but the piece that caught my eye was a papier-mâché sculpture of a toy ship by artist David Bromley whose work (I was told) often includes nostalgic pieces, memories from childhood such boy's toys.
I will openly admit that I know nothing about art – and I was most probably drawn in by the fact that I, supposedly, would be getting this 'boat' for a tenth of the usual price. But I have never even considered "investing in art", and so I said Thank You and went on my merry way.
But it did leave me curious, and after a quick Google discovered that David Bromley has been lauded as one of the 50 most collectible Australian artists. So…am I missing a trick here?
Chiara Priorelli, Publicity and Online Marketing Manager