The ultimate enhanced ebook
From that title I wouldn't be surprised if you thought I was about to extol the properties of some flashy new app or ebook release complete with flashing lights, theme tune and a long list of interactive / social media functions. Well, I'm not. I'm going old-school. I had a lovely break last week which was spent mostly at home and with family. The Olympics coverage was rarely off, so I'm suffering some withdrawal symptoms now. When I wasn't ogling the swimmers, expressing my opinion on the badminton furore and oh, getting a bit of eating and sleeping in, I was voraciously reading Gold by Chris Cleave.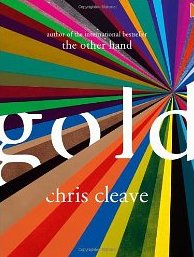 The book is set in the run-up to the 2012 games, following 3 Team GB track cyclists, their coach and a girl suffering with leukaemia. I wholeheartedly recommend it. With the country going crazy for Wiggins, Pendleton et al I also think it was the ultimate enhanced reading experience. While Cleave gets in the head of the athletes as they prepare for the start of a race, the crowd is baying, the cameras are flashing and it was so easy to draw upon the news coverage, friends' descriptions and pictures of Olympic events they'd attended and put myself right at the heart of that crowd. We might read in a similar way when we're on holiday, perhaps picking up a few books set in the country or city we're visiting for a bit of local colour, but they're usually historical or set in a not-very-specific 'now'. In this case, reading while the events at London 2012 were taking place, made it feel truly immersive.
Anyone have any other examples of great reads they interacted with because of the time or place they were reading them?
Lesley-Anne Crooks, Sale & Digital Manager