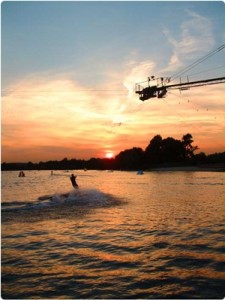 This Sunday I had the pleasure of trying wakeboarding at The Princes Club for the first time. No, sorry I lie. I went knee boarding – the beginners version. For anyone who doesn't know what this is, it involves you grabbing hold of a rope attached to a fast-moving cable (and when I say fast, I mean fast) which whisks you around a lake whilst you're strapped onto a board in a kneeling position (not standing as is seen in this picture.)
And you basically hang on for dear life.
The speed is a complete thrill, the problem is: the corners… You need to try and manouver the board in order to take the corners wide so the rope doesn't fall too slack on the turn and attempt to hold on when it jerks you ahead again, full tilt. I managed a maximum of 1and 3/4 laps before my arms would give way. Needless to say, I'm feeling the pain today, but I tell you, it was worth it.
For anyone fancying a bit of an adrenaline-ride, or just a different way to spend a Sunday, I can highly recommend this.
Chiara Priorelli, Publicity Manager