The taste of a good book…
This Saturday I found myself at the Southbank Centre's Autumn Wine and Cheese Festival. On two levels, booths packed side by side boasted their wines, ales, ciders, cheese, bread and goods for those passing by.  Now I don't know about you, but when I see that many sweet treats tempting me in one place, I can't help myself.  I gave in and bought a 'Peanut Butter Cheesecake Brownie' from the Outsider Tart booth.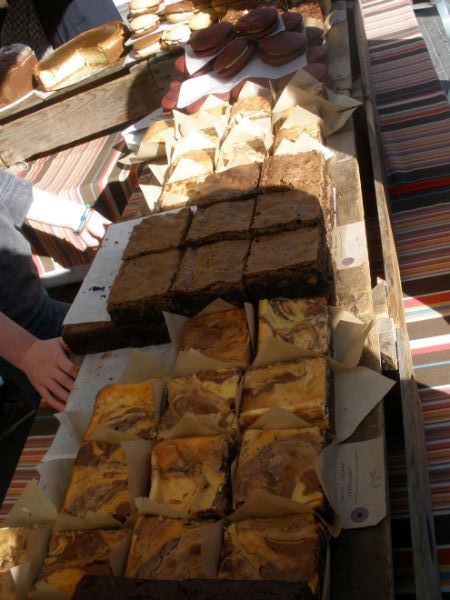 Even with brownie in hand, I couldn't leave the booth right away. Why? Because besides the food, there was also an eye-catching, brightly covered cookbook.
Now I love books of every kind, but this cookbook, surrounded by sumptuous baked goods and bottles of wine, was particularly appealing. It wasn't until I contemplated the red velvet cake with fondant flowers that I realized it was titled Baked in America.
Outsider Tart is, in fact, a bakery founded in Chiswick after owners David Lesniak and David Miniz moved to the UK from America in 2005. They focus on bringing family recipes from the U.S. to West London with treats such as whoopee pies and Lady Baltimore cakes. The two never expected to publish a book, but after seeing their selection treats, I see why they were pressed into sharing their secrets. With over 120 recipes and full colour photography, I drooled a bit just looking at the book.
Today, an article I read in New York Magazine entitled How Cookbooks Are Pushing the Publishing Industry Forward made me think about how easily inclined I was to buy this cookbook. While anyone could easily look recipes up online, there is a special feeling to holding that book in your hands and how it evolves over time, with splashes and stains from being kept in the kitchen.
Not only that sentimentality, but the new formatting of cookbooks with step by step photos and collections allows anyone to try and be a master chef. I know with the clever recipe titles and decadent photos, Baked in America had me rolling up my sleeves ready to start my own fall baking.
Mollie Diedrich, currently doing work experience at A&B