Last week Michael Bond was in the office. Best known for his Paddington Bear creation, he also writes our fabulously funny Monsieur Pamplemousse series  starring sniffer dog extraodinaire, Pommes Frites. Lesser known are his Tales of Olga da Polga, any mention of which makes our publicity manager's eyes glaze over with childhood nostalgia. Olga in the books, is a tall-tale-telling guinea pig and named after Michael's own furry friend (although as guinea pigs' life spans are not that impressive, he's on to Olga the 5th) pictured below (left) with her son Vladimir (right).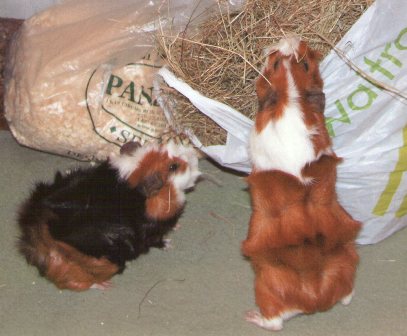 In any case, although he didn't mention Olga's athletic prowess (or indeed that of Vladimir), we thought Michael might be interested in at least taking them to see the Guinea Pig Games which look like they are in full swing.  Click here to view slideshow…
And you thought athletic bodies had to be hairless?
Lara Crisp, Managing Editor