The Jedward craze continues
It's coming up to Easter – a time to celebrate new life. Spring time means saying goodbye to the old and embracing the new.
This would be easier if some things weren't so persistent.
It seems Jedward, the tune-challenged twins from the X Factor, are not only here to stay but they're branching out into new ventures too: Easter Eggs. I kid you not. Get your Jedward Easter Eggs for the bargain price of £18 for 3!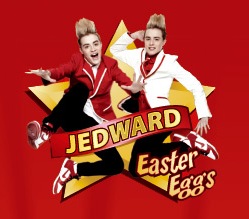 Lara Crisp, Managing Editor