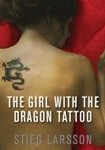 Stieg Larsson never had the chance to see his books achieve their phenomenal success. He was the second bestselling author of 2008, beaten only by Khaled Hosseini and according to The Times (this came as a welcome surprise to me) he has now 'outsold the whole Dan Brown oeuvre in paperback in Britain'.
But would his books have caused such a stir, had there not been his own personal intrigue? Larsson and his partner Eva Gabrielsson never married, apparently because of Larsson's political activity for which he received many death threats. But in trying to protect her, Larsson unwittingly denied Gabrielsson her rights to his now substantial fortune, all of which now belongs to his estranged father and brother. (Read more here.)
It's a huge issue in the UK too – many people are unaware that without a legal will in place, cohabiting couples do not have the same rights as those who are married.
But, of course, that's not all; the real-life story here beats most crime novels. Gabrielsson has in her possession a laptop containing part of Larsson's fourth book, which naturally his estranged relatives are very keen to get hold of.
The intrigue continues…
Lara Crisp, Managing Editor