TEA WITH JACQUELINE WINSPEAR
Don't miss the opportunity to meet the hugely acclaimed Jacqueline Winspear, author of the New York Times bestselling Maisie Dobbs mystery series, as she visits the UK all the way from California.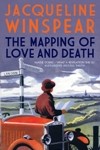 Thursday 3rd November, 3.30pm    HEFFERS, CAMBRIDGE
Enjoy an afternoon of tea and cake and a chance to meet Jacqueline Winspear, the acclaimed author of the Maisie Dobbs mystery series. She will be talking about her books, including her new release The Mapping of Love and Death, followed by a book signing at at Heffers, 20 Trinity Street, Cambridge CB2 1TY.  To book your place, collect your ticket at the bookshop or call on (01223) 463200.