Susan Wooldridge at Borders Book Festival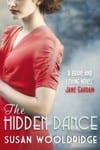 Sunday 17 June, 4.45pm  BORDERS BOOK FESTIVAL, MELROSE
As part of the Borders Books Festival, three exciting debut novelists Carol Rifka Brunt, Kathleen be MacMahon, and A&B author Susan Wooldridge will speaking about their books which cover themes that really matter: family, friendship, love, life and death. Susan will be talking about her award-winning The Hidden Dance, a beautifully and tenderly written story about a young woman escaping the brutality of a failed marriage. The event takes place in the Lochmarron Marquee, Harmony Garden, St Mary's Road, Melrose, TD6 9LJ. Tickets are £9, £7 (Concession). For more information and too book tickets visit the festival website.