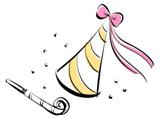 Summer is upon us and after the hibernation of a long and snowy winter, so is the party season! It's one weekend after the other of birthdays, weddings, hen nights, baby showers and just-becauses. And then there's the work parties…
The lovely Victoria Connelly popped in to the office last week. She's very excited about her launch for Molly's Millions on 16th July at Waterstone's, Notting Hill. I can't wait – it's sure to be a great party.
But even before we get to July, there's still the rest of June to get through. Do check out our calendar of events to see if there's anything close by to you. Our authors are an entertaining and far-flung lot. From Liverpool to Winchester, Woking to Carlisle, there's sure to be something happening in your area.
Lara Crisp, Managing Editor