Start the Week with some Woman Power
Since my previous blog on Female Literary Legends, I've become aware of some real-life legendary women who I think deserve another blog post. Many of you have probably heard of Malala Yousafzai, the fifteen-year-old girl who was recently shot by the Taliban because she campaigned for women's right to education. People around the world are now in turn campaigning for her to receive the Nobel Peace Prize. (Read more here… ) Even though it's awful to think about the brutality and ignorance that landed her in hospital, it's heartening to know that the majority of the world are on her side.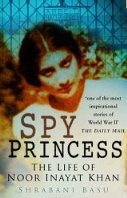 And then there's Noor Inayat Khan, the Indian princess who turned spy for Britain during World War II.  She's been featured on the BBC news lately, thanks to a sculpture of her which was recently unveiled in London. Her story sounds like an amazing one – like something out of an espionage film – and Khan herself was a storyteller, having written a book, Twenty Jakata Tales, retelling traditional Indian children's stories. You can also read about her intriguing life in the biography Spy Princess: The Life of Noor Inayat Khan. I'm not usually a reader of biographies, but I think this one may be on my Christmas list.
As an all-female office, Allison & Busby like to see a bit of 'woman power' (not 'girl power' – that's the Spice Girls). But it's a mixed bag – while I've been hearing these inspirational female stories, I've also been reading Stylist's article on the pay gap between men and women. Good news – it's shrunk. Bad news – not by nearly enough. So I think we women still have a long way to go, and perhaps we should all turn to stories of female heroes to inspire us.
Does anyone else have any favourite stories of 'woman power'?
Sara Magness, Editorial Administrator