Spot our HOTEL posters on the London Underground!
Today, I began my commute to the office buzzing with excitement, which is not that usual (however much I like my job) for a Monday morning. The reason? Our posters for Hotel on the Corner of Bitter and Sweet, by Jamie Ford, have now officially gone up across London underground stations! It's our first-ever tube poster campaign!
And lo and behold, I spotted one of them!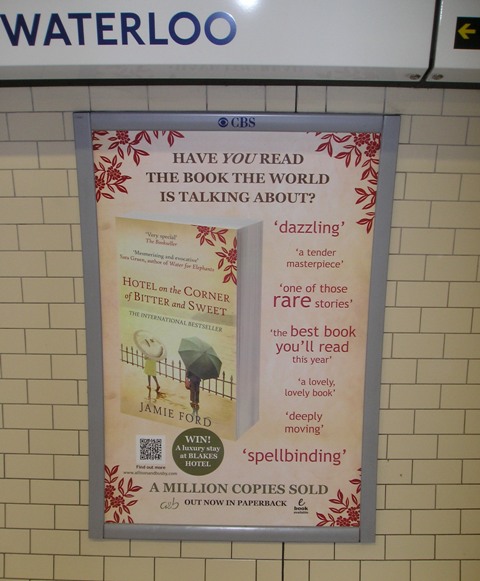 We're so excited, that we've decided have some fun with this…
So! Come on all you Londoners – you now have a new mission: To find more HOTEL posters on the London underground.  Let's see if between us, we can find them all! Spot one, snap it and post your find on Twitter or Facebook! (And you'll automatically enter a giveaway to win a copy of the book!)
Twitter: Tweet your snapshot of the poster and where you spotted it @allisonandbusby using hashtag #foundit
Facebook: Post your snapshot of the poster and where you spotted it on your Own Wall and then come and tell us you've found it on our Allison & Busby Books Facebook Page.
The posters will be up for the next two weeks so keep your eyes peeled! At least its something to liven up the boredom of London travel…
And of course, don't miss our fabulous giveaway for a luxury stay at Blakes London to celebrate this new paperback release!
Chiara Priorelli, Publicty & Online Marketing Manager