So you think you've seen London…
You've gone up the London Eye, watched the guards change at Buckingham Palace, popped inside a selection of our many museums, fed the pigeons in Trafalgar Square and gone shopping in Covent Garden. Maybe you live here or perhaps you're a happy visitor, but you know London, perhaps not intimately, but you've seen the sights and you know what the capital has to offer.
Or do you? Perhaps it's time to open a door into a very different, secret London. A London like you've never seen before.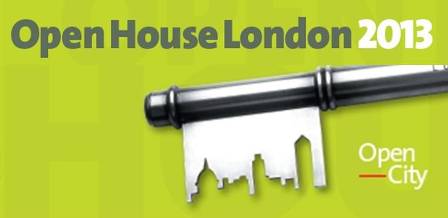 This weekend, starting Saturday 21st and running for a full 48hrs, is Open House London. Over 800 otherwise private buildings will hold offer a smiling reception to those seeking something a little bit different.
Perhaps you've trodden the pages of Tudor London – maybe losing yourself in the worlds of writers like Shakespeare – or, more recently, Hilary Mantel and Paul Lawrence – well now you can enter the hallowed halls that their characters walked. Places like the Museum of the Order of St John, once a hospital and then the offices of the Master of the Revels, where over 30 of Shakespeare's plays were licensed and perhaps where we envisage our favourite book keeper, Nicholas Bracewell, gaining licence for Westfield's Men.
Or maybe you've floated through the fine Halls and houses of the eighteenth and nineteenth centuries, imagined yourself dancing with the elite of Austen-like society, or investigating the streets full of curling smog outside. The Guildhall, Fishmonger's Hall, and Draper's Hall are just a few of the startling venues intrinsic to that world, whilst the Home House, built in 1776 by Wyatt and once the London base of the Countess of Home, exemplifies the opulent circles in which those characters may have moved and which you now have the chance to experience yourself.
Exciting though those maybe, there are also the Royal Courts of Justice open on Saturday and Middle Temple Hall on Sunday and the Garden Court Chambers where the tour guides are themselves practising barristers from the Chambers. This means that any of you as taken with Caro Fraser's Caper Court series as me, may tiptoe into her vivid world even more fully.
If those aren't quite your style, many more places are on the Open House list. The iconic, soon to be renovated Battersea Power Station is one such site and whilst it's operating first-come entry, who would want to miss the last chance to see the hauntingly empty power house and its unique blend of civil and popular history? There's also The Gherkin, which boasts a 360-degree panorama of London from the heart of the city's financial centre. Plus, there's a plethora of libraries, the Brixton Windmill and the dozens of beautifully designed houses. There's something for everyone and since this weekend is meant to be graced by sunshine and warmth, I think it would be a rather wonderful way to have a little London adventure.
Harriet Allner, currently doing work experience at A&B