Thanks to a friend with some tickets to the Country Life Christmas Fair, I'm now well and truly enjoying the festive spirit. Hurry – only forty-odd more days to go! (I'm only half joking.)
Anyway, while wondering around the surprisingly cavernous Business Design Centre in Angel (how apt) I found stalls of all shapes and sizes and discovered that while white chocolate and cranberry Christmas cake sounds and tastes divine, I can't classify it as Christmas cake. In amongst all the baubles and treats however one stall stood out for me. The Print Rescuer does exactly that, rescuing badly damaged illustrated pages from books that might otherwise be consigned to the rubbish heap. Drawings by Beatrix Potter and E H Shephard (Winnie the Pooh), Babar and those Victoriana flower fairies – take your pick. Removed from the book, tidied up, mounted and framed, these beautiful and iconic images are given a new lease of life.  I couldn't resist buying the one below.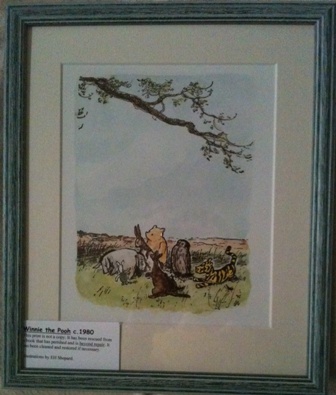 Now that is pleasing recycling.
Lesley-Anne Crooks, Sales & Digital Manager