Rebecca Tope's Cotswold Tour – Cheltenham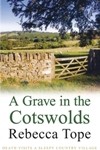 Saturday 4th June, 11.00am – 12noon    WATERSTONE'S, CHELTENHAM
Come and enjoy tea and scones and a chance to meet Rebecca Tope, author of the bestselling Cotswold mystery series, as she, with fellow Cotswold crime-writer Anne Granger, delight fans with a talk, reading and booksigning session at Waterstone's, 33-41 The Promenade, Cheltenham, Glos GL50 1LE. There will also be a bake off in the afternoon and a murder mystery themed treasure hunt during the day where clues will be hidden in Rebecca Tope novels around the store. Fun for all! For more information call the bookshop on 01242 571179.