Music, not War, comes to Val D'Orcia
We never need a reason to talk about one of our most beloved books, the famous memoir War in Val D'Orcia, by Iris Origo which we so proudly publish. This incredibly moving and honest diary was written in secret and recounts a year in the life of writer Iris Origo as she hid orphans and prisoners of war on her Tuscan estate, La Foce, during the dangerous time of German occupation and Allied invasion.
But this month we have even more reason to mention it seeing as it will soon be the 25th Anniversary of the Incontri in Terra di Siena – an annual festival of music which will see people gathering at La Foce for a series of concerts from 19th – 28th July. I can think of nothing better than sitting and reading War in Val D'Orcia in the beautiful grounds of La Foce whilst evocative classical music plays in the background.   Read more in the Guardian here…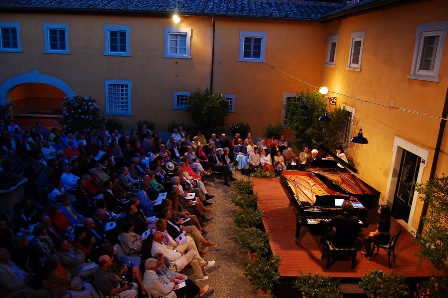 And you can catch short film about the Incontri in Terra di Siena festival on the Euronews TV channel's music programme from 4th July for one week.
Note, we're currently offering £2 off War in Val D'Orcia this month  (just enter promo code WVD25 in your shopping basket to get the discount) so there's never been a better time to escape to Val D'Orcia.
Chiara Priorelli, Publicity & Online Marketing Manager