Meet & Greet with Cassandra Clark in Bracknell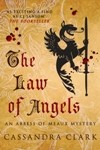 Saturday 12th November, 11.00am – 3.00 pm  WATERSTONE'S, BRACKNELL
Don't miss this chance to chat to author Cassandra Clark! She will be mingling with customers and signing copies of her medieval mystery series featuring Abbess Hildegard of Meaux, including her latest book The Law of Angels at Waterstone's, 17 Stanley Walk, Bracknell RG12 1HA. For more information contact the bookshop on 0843 290 8169.