Last weekend saw me traipsing into central London to look at maps at the British Library. Thrilling, no? I'll be honest, geography has never been my strong point so my enthusiasm for the day was not at its highest levels. However, I'd been promised that the day would have a pub ending. I'm easily persuaded.
So I fortified myself with an espresso just in case I was tempted to fall asleep on my feet, took a deep breath and entered the British Library's Magnificent Maps exhibition…
Which was…actually…surprisingly…very very good.
It was incredible to see how detailed and accurate the maps were centuries ago, before the benefit of aerial views and fancy technological measuring equipment. From the world atlas of 1660 (the largest atlas in the world, and taller than me on tippy toes) to the smallest atlas that you have to use a magnifying glass to read it), to gold leaf masterpieces and maps with powerful political agendas, this was a Saturday afternoon well spent (I had to admit in the pub later).
Near the end of the exhibition is a modern piece of map art, Stephen Walter's 2008 'The Island'.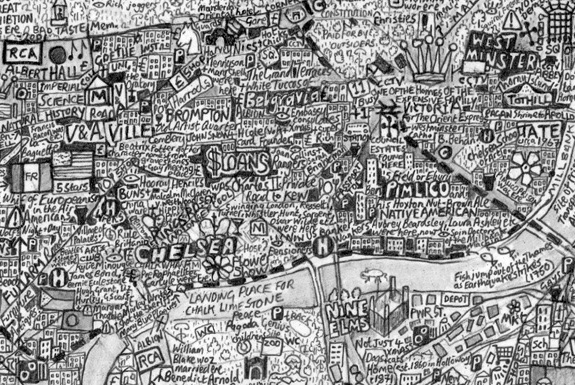 Intricately detailed, it's a personal – and hilarious – depiction of London – I could have spent hours staring at it. All in all, an exhibition I'd highly recommend. But get there quick, it ends 19th September.
Lara Crisp, Managing Editor