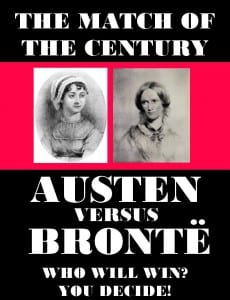 Literary fans can be as ardent (read: cut-throat) as any football supporter. Which is why I was slightly gutted to belatedly hear about a starry event that pitted Jane Austen versus Charlotte Brontë. Intelligence Squared, a live and online forum for debate and discussion, hosted an evening last month, the first in their 'literary combat' events.
John Mullan and Kate Mosse were in the respective authors' corners, assisted by readings by actors Dominic West, Sam West, Eleanor Tomlinson and Mariah Gale. I'm very pleased that a video of the event is now available to view here.

There's something about the premise that makes me think of the playground, i.e. my dad author is better than yours. But it's all a bit of fun and gives us an excuse to harp on about the things that make these authors great.
The next 'literary combat' match, sorry event, is Shakespeare v. Milton scheduled for June.
Which other literary heavyweights would you pit against each other?
Lesley Crooks, Digital & Online Marketing Manager