Literary Films 2013: Out Now
With the cold, dark mornings and the absence of Christmas to make them feel festive, I find there's not much to get excited about at this time of year. Cinema, however, is one exception. There are some great films out already, and I'm looking forward to even more of them coming soon. And many of those films are book-inspired – here are my top films adapted from books, out now: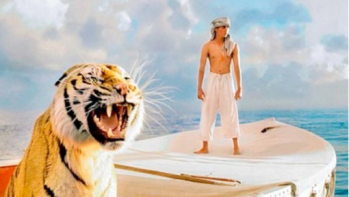 Life of Pi: Loved the book, and was glad that the film stuck pretty closely to it. The visual effects are incredible, and give the film the same vibrancy that Yann Martell conveys in his writing. I was particularly impressed by the CGI tiger, which was created by studying footage of the real animal (read more here). I guarantee there will be some tiger-related scenes that will make you jump!
The Hobbit: An Unexpected Journey: I'd heard some bad things about this film (mostly including the words 'slow' and 'very long'), so I wasn't that enthusiastic about seeing it. Maybe it's because I had low expectations, but I ended up enjoying it. Ok, it wouldn't make my top films of the year, but it's an easy, family-friendly watch. Take the kids.
Les Misérables: Haven't managed to see this yet, but I am so looking forward to it! If you haven't seen the trailer, watch it. I've seen it played many times in cinemas, and the audience always goes very quiet and watches in awe. If the film doesn't live up to my expectations, then whoever made the trailer still deserves a lot of credit.
Stay tuned for next week's blog post on films coming soon, where there'll be lots of book-inspired supernatural goings on…
Sara Magness, Editorial Administrator