Life's funny little coincidences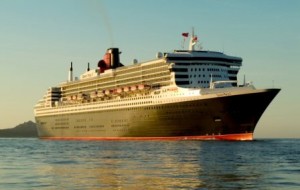 Last night, I had dinner with my mum, and our conversation veered onto my late American grandmother – her life and upbringing.  Of all the titbits of information I learned, I was astounded to hear that my great grandmother had packed them up (my gran and her siblings) and taken them to Europe for a year, with a private tutor, travelling over on the Queen Mary. Fancy that!
Then, funnily enough, earlier today I received an email from author Freda Lightfoot who mentioned she had just returned from a wonderful trip to New York on Queen Mary 2! (pictured)
What are the chances that I should hear about travelling on the Queen Mary in the space of 24 hours? I love little coincidences like this – makes the world feel small and connected in inexplicable ways.
The original Queen Mary is retired and docked at Long Beach California, but Queen Mary 2 (as Freda will attest) is available should anyone wish to enjoy a similar luxury – and be far more affordable I should think than it would have been in my great grandmother's time!
Read Freda's blog about her Queen Mary 2 trip here.
Chiara Priorelli, Publicity Manager