Laurie R King speaking at The Lit & Phil, Newcastle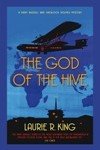 Monday 2nd August, 7.00pm    THE LIT & PHIL, NEWCASTLE-UPON-TYNE
Bestselling mystery writer Laurie R King will be talking about and signing copies of her acclaimed Mary Russell & Sherlock Holmes series, including the new releases The God of The Hive and The Language of Bees, at The Lit & Phil, 23 Westgate Road, Newcastle upon Tyne, NE1 1SE. Talk chaired by author Chaz Brenchley. For more information call the bookstore on 0191 232 0192.