Laurie aRrrgh! King's Art Competition!
Get yer eye-patch, stuffed parrot and wooden leg out – it's time to talk PIRATES.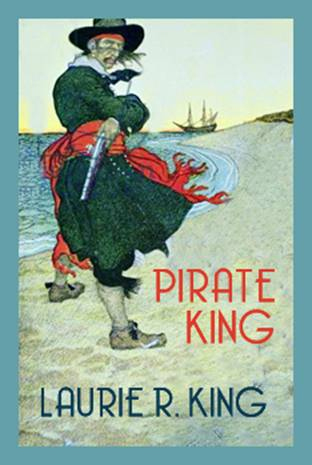 We know many of you are anxiously waiting for the next installment in the Mary Russell and Sherlock Holmes series by Laurie R King, and you won't have to wait too long. Pirate King (which sees Russell investigating the criminal activities of a movie studio currently filming an adaptation of The Pirates of Penzance) will be out in September but there is plenty to keep you busy till then.
First off – time to put your artistic skills to the test with this Art (Arrrgh!t) Competition!
Laurie R King has written an original short story about one of the characters in Pirate King. A bird. A male scarlet macaw, to be exact. The title of the story? PARROT KING of course.
And the challenge for you is to illustrate it!
So, read and print the story here, take a look at the suggestions on the Instructions page, and get drawing!  When you're finished, post it or scan and email it to the email or postal addresses supplied on the pdf and Laurie will showcase them on her website.  In Laurie's words: 'A prize for the best. Or just one that makes me laugh the hardest.'
The winner will recieve a limited edition Pirate King poster and a copy of the new Pirate King hardback. The competition closes on 8 September and the winner announced on 19 Sept (International Talk Like a Pirate Day!)
And there's more to look forward as well… aye there is! There's the mini e-book Beekeeping for Beginners (out 15 July) and more competitions, including a pirate Haiku and crossword puzzle contest. So, me hearties, watch this space 'ere – Arrrgh!
Chiara Priorelli, Publicity & Online Marketing Manager