It's official: Martin Edwards is the Ultimate Criminal Mastermind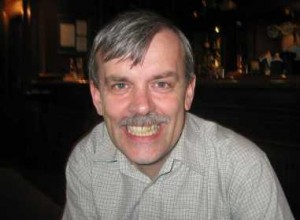 I love pub quizzes. I'm absolutely rubbish at them but I do have a competitive streak so enjoy the thrill of trying (albeit in vain) of winning. Apparently, I need coaching from author Martin Edwards.
Yesterday Martin won the Criminal Mastermind quiz at Bristol's CrimeFest for the second year running. He was up against authors Cara Black and Peter Guttridge, and crime reviewer Ali Karim – with Maxim Jakubowski shelling out the questions. (And there seems to be little faith that anyone else could beat Master Martin because it's been agreed that he's not allowed to participate next year so give other mortals a chance at the title.)
Not only that, but he and his team (comprising Rik and Carol Shepherd, Karen Meek, Ann Cleeves and fellow A&B author Cath Staincliffe) also won Crimefest's Friday pub quiz at The Green House with questions set by Peter Guttridge.
I note that on Martin's blog today he only mentions the team-win at The Green House pub and not his second crowning as the Ultimate Criminal Mastermind. Evidence that he's brilliant and humble. Had it been me, I'd probably have printed a T-shirt broadcasting the news. Like I said, I need coaching from Martin Edwards.
Chiara Priorelli, Publicity & Online Marketing Manager