Is an unread book easier to ignore on a Kindle?
While we can still go away outside of school holiday times we're making the most of it. So last week while everyone else was manically sewing on labels and dusting off blazers, we were packing up for a blissful week in northern France. At least that was our plan.
Unfortunately we took along an unwelcome extra guest – the Norovirus. This sort of put paid to our long-awaited cheese and wine indulgence, at least for the first few days. But once he'd moved on (after paying each of us a visit in turn, can't say he wasn't even-handed with his attention) we had a chance to properly take in our surroundings. I'm usually a bit dubious about booking accommodation direct and prefer to cling to the travel giants like Expedia etc for security. But I needn't have worried. Our little cottage, booked independently, was just beautiful. Down an isolated dirt track (past two lazy black sheep, and a donkey and her baby) was our little home for the weekend. With views over beautiful farmland, and the most gorgeous garden complete with grape vines, herbs and gooseberries, it was truly idyllic. And hot!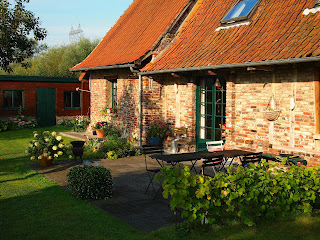 I planned on whiling away many an afternoon lazing in the hammock catching up on reading. Alas, I had not factored in my one-year-old daughter, and have had to face the fact that holidaying will be slightly different from now on. So, despite loading my Kindle with heaps of new books, I only managed to read one the whole time we were away. But somehow an unread title on a Kindle screen sits less heavily on my conscience than a growing pile of 'real' books next to my bed. Do you agree?
Lara Crisp, Managing Editor