In light of the Diamond Jubilee…
As things gear up for the Jubilee celebrations, you'd be hard pressed not to spot a British flag and the image of the coiffed head of her Royal Highness somewhere in your line of vision.  There she is on the cover of new releases…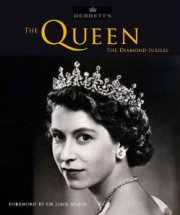 special celebratory memorabilia…
and the Diamond Jubilee stamp…
That Her Highness' regal head is supported by an able 5'4″ body (with fully functioning limbs that carry equally important and official roles including the of signing important documents and the shaking of the hands of VIPs and members of the British public who will turn out in spades to see her) is secondary to the fact that the Queen's head is an emblem in itself.
So, with this in mind, I've chosen to honour the royal celebrations with our June Book Club Choice – the first book in Edward Marston's Nicholas Bracewell's series…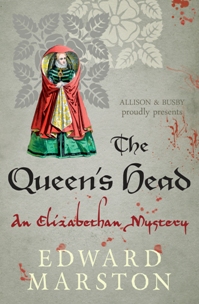 Whilst murder, mystery, and an inn whose name makes reference to Mary Queen of Scots' beheading may not entirely follow the tone of this weekend's festivities, I hope you can still appreciate the effort involved in coming up with a suitable, if tenuous, link. I could have gone for a more obvious royal-themed choice like The Elizabeth Omnibus, or something even more tenuous, like The Beekeeper's Apprentice  (what with there being talk of the Queen bee…)
One does try one's best.
Enjoy the bank holiday everyone!
Chiara Priorelli, Publicity & Online Marketing Manager