It's January. It's still ridiculously dark when I emerge from the house each day. And the Christmas decorations have been put away. Boo! To add to my doldrums, a fresh week has brought a fresh announcement of a budget cut. While there are obviously more dire stories out there, the fact that the blue plaque scheme has been suspended for at least two years is enough to make tender-hearted souls like me, well, blue.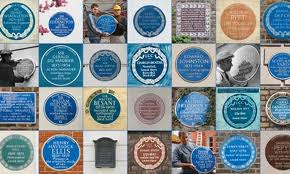 Particularly as it has taken world wars to interfere with the installation process previously. Read more here and here.
London is covered with these little windows on the past, see this map for a swarm of blue map pins. In close proximity to the A&B office we have a varied collection of blue plaques commemorating a range of people from explorer Captain Matthew Flinders to Samuel Morse, painter and inventor of the code that bears his name. Multi-tasking: he must have really wanted that plaque.
I love passing these signs and being reminded that London is a magnificent hub in which discoveries are made, epic works created and great lives lived. But all is not lost, as I inputted this blog entry a new news article caught my eye: fingers crossed that the National Trust will be able to take on the running.
Lesley Crooks, Sales & Digital Manager