I'd like to dedicate this week to…
Historical figures and events have days named after them. Allison & Busby authors are getting weeks celebrated in their honour!
First we had the Morganville Vampire Week at Chrissie's Corner Blog in honour of Rachel Caine's hit series (links to all the week's posts can be found at here at our UK Fans of the Morganville Vampires Facebook page). Now the Historical Tapestry Blog is in the midsts of celebrating Susanna Kearsley Week!
The author of such delights as Sophia's Secret (published in the US as The Winter Sea), Mariana, The Shadowy Horses, and Season of Storms, Kearsley's books blend history and romance and weave the past with the present to create captivating reads.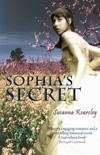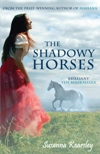 So head to the Historical Tapestry Blog now to join the discussion about her books (so far, Sophia's Secret aka The Winter Sea) and The Shadowy Horses have been reviewed, with an interview and guest post from Susanna Kearsley still to come. We'll also be giving away three UK copies of Sophia's Secret – so keep your eyes peeled for that!
So that's two of our authors getting a week-long special. Which other A&B author would you choose to dedicate a week to?
Chiara Priorelli, Publicity & Online Marketing Manager