How to Survive a Zombie Apolcalypse at the Fringe
The Edinburgh Fringe Festival is in full swing at the moment and our very own professional zombologist, Dr Dale, is there with his show (the brand new seminar) How to Survive a Zombie Apocalypse RELOADED.
I've seen the show and thought it was hilarious! But just so you know I'm not biased, this is what the real zombie aficionados had to say too:
'Fresh and original…
The cast's interaction with the audience is spot on' ****
Liverpool Echo
'The cast are able to improvise brilliantly even at the most bizarre suggestions' ****
British Theatre Guide
'A delicious piece of straight-faced idiocy' ****
Venue Magazine
'It's bizarre, it's all bizarre, but it's brilliantly bizarre.
If I were you I'd get myself a ticket' ****
Broadwaybaby.com
'Great entertainment' ****
Zombiecommand.com
'Dead funny and loads of fun'
SFX Magazine
'Zombie improv at it's best'
Fortean Times
'It really made me, and the audience, laugh hard. It is a loving tribute to a genre of film that has spawned a subculture and treats it with equal respect and ridicule… It is also very funny and energetic. All four cast members are sharp-witted and play their oddball characters to near perfection.' ****
Across the Arts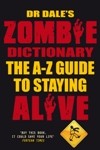 The show is on now until the 29th August. Don't miss it – your life could depend on it! – book your tickets now! To fully prepare yourself, be sure to study the ultimate zombie survivalist manual: Dr Dale's Zombie Dictionary: The A-Z Guide to Staying Alive. You may stand a chance of surviving the seminar. And lastly, you can catch Dr Dale tomorrow at Blackwell's, South Bridge, Edinburgh from 2-3pm (and get a your book signed) – he'll be in the shop window. No joke.
Lara Crisp, Managing Editor