How I got to see Hewitt, Roddick and Murray yesterday…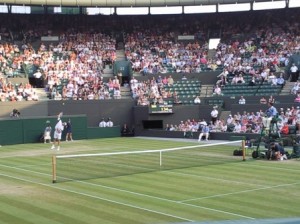 I was not in the office yesterday. I was at Wimbledon. I made the executive decision to take the day off and together with my boyfriend, Anthony, I set off at noon on Sunday to camp out for tickets. When we arrived at the queue we knew we'd already missed out on Centre Court (only 500 tickets to Centre Court are available and we were numbers 796 and 797). We were told people had started camping out on Saturday for them. Hard-core.
That left us with Court 1 and 2 – Hewitt playing on Court 2 was tempting, but we opted for a day on Court 1 (Venus Williams v Ivanovic, Verdasco v Karlovic, Roddick v Berdych). But if you want a lesson in how to broaden your options, here it is (feel free to take notes). A brief summary of how the day unfolds…
On Court 1, we watch Williams v Ivanovic until Ivanovic forfeits match due to injury. We then watch Verdasco v Karlovic – boring, as Karlovic keeps pulling out aces, and crowd is not even bothering to clap. So, when it starts to rain we ditch the match and head over to Court 2 to find something better…
We ask the steward there if we can take a look at the new Court 2 whilst play is suspended – he says ok. We head up the stairs to the arena. Two seconds later the skies have cleared and the steward has disappeared and I suggest we try our luck and pick some empty seats and hope the steward doesn't notice. (It annoys me that you see so many empty seats in the top courts and you know they are mostly the corporate tickets holders who don't care about being there or not.) Play resumes and we get to watch the last three sets of a five-set riveting match with Hewitt making an awesome comeback from two sets down. Throughout the breaks the Aussie fans (one particular group of them) have been chanting "we're going to win 3-2! We're going to win 3-2…!"and the entire audience (Aussie or not) are loving it – so much so that a steward gets boo-ed from the whole crowd when he tries to get them to calm down. Hewitt wins the match, and if you ever wondered if players actually love that kind of unbridled support, right after his win he runs over to the Aussie "Fanatics" for a heartfelt Thank You.
Ok, so now we head back to Court 1 for the start of Roddick v Berdych. We're seated right opposite the umpire, bang in the centre, only six rows up from the court, but notice there are empty seats in the balcony over the Serving Speed monitor. We change seats and my sister texts me to say she keeps seeing us on TV. I make sure I'm sitting in a lady-like fashion. It's a great match but Roddick wins in straight sets. It's now almost 8.30pm, and Murray and Wawrinka are only starting their 3rd set. So we head over to Centre Court…
I know there's no way we'll get in on the sly, but it's late and we figure we might catch someone leaving. So I start asking anyone who is passing by, and lo and behold, 5 minutes later a couple with debenture tickets hand them over to us. And there you have it, at 8.40pm we are seated in Centre Court, roof closed, lights on, and we watch Andy and Stanislas battle it out on the court for the next two and a half hours. What a match. Probably one of the best I've seen, and certainly the best I've seen live.
We left Wimbledon thirty-five hours after we'd started queuing. For a day spend on Court 1, Court 2 AND finally Centre Court, it was all worth it.
Chiara Priorelli, Publicity Manager