Today is World Book Day! And what a day it is. The Biggest Book Show on Earth is about to kick off (11am today) to be broadcasted to cinemas nationwide and streamed live here; events will be taking place in schools, libraries and bookshops, eight £1 books have been released especially for the occasion; an app for young adults is being launched featuring stories from top authors and competitions abound: design a bookmark! write a story! win free books! I love the fanfare surrounding this day and am almost tempted to join the many kids who will be dressing up as their favourite literary character… I could easily pull off a Nancy Drew costume.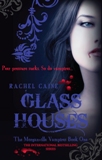 We're still celebrating the fact that the first book in the Morganville Vampire series Glass Houses was voted the most popular book by children in the UK (the full report from the survey has been published today and available here). And so, in light of today's jubilation, there's no better time to announce that author Rachel Caine will be coming over to the UK in May, to see her fans and celebrate the release of the next book Fall of Night!
So, a big shout to kids across the country. Have fun and enjoy today's festivities, and you'll have more to look forward to in a few months time!
Chiara Priorelli, Publicity & Online Marketing Managaer