Halloween starts October 23rd…
I know it's over a week until the 31st but in London at least, Halloween's starting early…specifically in my case on Saturday 23rd October.
I've already marked the date for Dr Dale's return to London with his hit comedy-seminar How to Survive a Zombie Apocalypse RELOADED – back at the Riverside Studios in Hammersmith this Saturday 23rd October, 8pm. The A&B girls had a blast when we went to his last show (see previous blog) so if you didn't catch him the first time round, don't miss him again!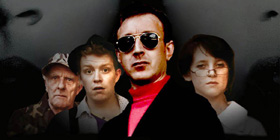 That's the evening sorted, now look what I spotted for some fun with the kids earlier in the day. Check out Halloween at the Cookbook Café for a chance to make make scary cakes, bone-shaped bread and chocolate worms. (Click here for more info on the Café) Perfect to take the little ones for some pre-trick or treating fun!
Lara Crisp, Managing Editor