Get your very own A&B bag!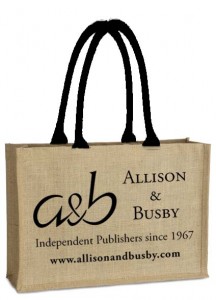 They might not rival Gucci or Prada, but our A&B branded bags proved such a hit with London Book Fair goers that we're now offering anyone the chance to get one (while stocks last).
I actually got a rather unexpected call at the office one Book Fair morning from a random guy who said he'd just come out of the tube where he'd spotted someone carrying one of our branded bags. He said he worked for a trendy production company and loved their look so much he was calling to find out where we'd had them done!
We obviously have an eye for style (after all, we are amongst the trendy media crowd around Charlotte Street…) but we also know the meaning of functionality. This bag has replaced my handbag since it currently manages to fit within in (without bulging in an unseemly fashion): one copy of No Time for Goodbye, by Linwood Barclay, a pashmina scarf, a waterbottle, a small tupperware, my wallet, my make-up case, a note book, a copy of this morning's Metro, a pair of flats (I'm not a woman who commutes in heels) and a box of strawberries from the fruit & veg stall down the road.
I can also see it coming in handy on my next holiday (perfect bag to carry beach towl, sunglasses, sun-tan lotion, beach read and flip flops) and as an eco-friendly shopping bag (as in, 'oooh look at me, Tesco shoppers, with my stylish Bag-For-Life. I read books and care about the planet!').
Have I sold it to you yet?? (I swear I don't get a commission.)
Anyway, if you fancy a useful bag, which will also help to promote our website and wonderful books and authors, you can buy it here for the nominal fee of £4 (including postage & packing). Basically the price of a London sarnie.  Bargain!
Chiara Priorelli, Publicity Manager