Friday Fun: Vote for the Oddest Book Title of the Year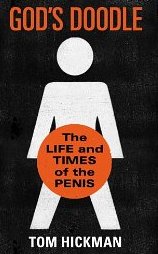 It's that time again: time to pick the Oddest Book Title of the Year. There have been some wonderful entries for the Diagram prize in the past (see here, here and here) and this year doesn't disappoint.  There's the usual mention of at least one animal and one body part, but this year I found the titles particularly evocative…immediately painting a picture in my head, that didn't (I'll quickly add) match the actual book content (bar one).
Lofts of North America: Pigeon Lofts, by Jerry Gagne
This immediately brought to mind a coffee-table photography book, rich with beautifully captured shots of pigeons in lofts and barns across America. It could work (heck, I'm tempted to go get my camera). However, it's actually a professional guide to pigeon housing. Um, less exciting.
Was Hitler Ill? by Hans-Joachim Neumann and Henrik Eberle
The book is a medical analysis about whether Hitler was fully responsible for his crimes. The understated title might be catchy but throws up an inappropriately banal image. Makes me picture the Führer with a bad cold… like WWII really kicked off  'cause he was grumpy from man-flu.
How Tea Cosies Changed the World, by Loani Prior
I'm envisioning scenes from War of the Worlds, cities being swarmed by padded cloth… (Perhaps because it's listed next to Was Hitler Ill?) It is, in fact, just a sweet tribute to the tea cosy.
How to Sharpen Pencils, by David Rees
I imagine a humorous gift-book, a spoof Dummies guide for the school-for-the-gifted. Nope.  It really is a book about how to sharpen pencils; the art of achieving the perfect point. In today's high-tech world, we're obviously losing some basic skills…
Goblinproofing One's Chicken Coop, by Reginald Bakeley
Who knew that chickens were scared of goblins? Silly me, that's not what it's about.  It's about warding off bothersome members of the fairy realm.  Of course! That makes total sense now.
However, the title that at first appeared to be the oddest, ended up encapsulating the contents quite perfectly…
God's Doodle: The Life and Times of the Penis, by Tom Hickman
Now I've heard men's manhoods been called many things, but God's Doodle takes the biscuit.  Since most men (I generalise of course)  feel their member is deserved of a tribute à la "The Life and Times of…", I'm not sure how they'd feel about a book that somewhat deflates that image. I challenge you to find me any man that refers to his Little Man as a mere doodle.  Ask a woman however…  So, as it turns out this seemingly odd title is actually a cleverly thought out juxtaposition. It nicely matches the contents of the book (read blurb here) which offers a witty yet all-too-true perspective on a man's historical obsession and neuroses surrounding his appendage.
Which title do YOU think should win the Diagram prize for Oddest Title of the Year?
Vote for your favourite here!
Chiara Priorelli, Publicity & Online Marketing Manager