Flippin' heck, free copy of Flipping Out (signed to you!) up for grabs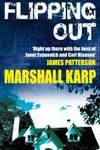 Flipping Out, the new book in the acclaimed Lomax and Biggs crime series by Marshall Karp is out now. It follows The Rabbit Factory and Bloodthirsty and if I had a pound for every critic, blogger and reader that has raved about these books, well, I'd have paid for a nice holiday in Bermuda by now. In other words, if you haven't discovered Karp yet, you're missing a trick.
Anyway, if you still need convincing, watch out for reviews of the book and interviews with Marshall which will be popping up on various UK blogs and review sites over the next few weeks.  First up, Booksmonthly.com who has picked Flipping Out as July's Crime Book of the Month and has this to say about it: 'He is simply the best, and I wouldn't trade my copy for a Westlake or an Evanovich for anything!' Read full review here.
More to come… and I'll be flagging up the next review or interview here and on Twitter so keep following us. You can also check Marshall's blog to know where to look. Plus, will be a chance to get some free books along the way, so if you want to read Flipping Out you don't necessarily have to part with your hard earned cash. Of course, the catch is once you read the we know you won't wait a second to buy the other two… so, be warned. But you'll thank us for it, I assure you.
Lastly, for all the UK fans out there that have been waiting impatiently for this third installment, we're giving one lucky reader the chance to get a personalised signed copy. Just enter our competition here (only open to readers in the Uk & Ireland) by the 15th August and Marshall will sign a book personalised specially for you.
Chiara Priorelli, Publicity Manager