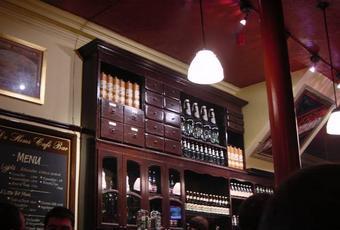 I'm not a fan of dirty old man pubs and as much as I love glossy bars, there's nothing quite like a low-key, cosy pub serving local beer and comfort food. 
Round the corner from our lovely offices is the very popular Carpenter's Arms. It has a beautiful outside area, complete with obligatory fairly lights and is (usually) well stocked too.
My Sunday favourite has got to be the Old Ship in Hammersmith (HUGE Sunday roasts), although The Dove nearby is a close contender too.
De Hems in Soho (pictured) specialises in Dutch beer and is a great spot if you're looking for somewhere central.
I'm always on the lookout for new additions to my list of favourites though – any suggestions?
Lara Crisp, Managing Editor