Envelope Exhibition, anyone?
Recently, while browsing on Twitter, I discovered upcoming book release Letters to Klaus. The book is a collection of illustrated envelopes which have been sent to Klaus Flugge, founder of Andersen Press, by the various children's book illustrators he's worked with over the years. Not only does it sound like a lovely little coffee table book to own (and all proceeds are apparently going to charity Save the Children), but it also reminded me of our very similar collection, Harriet Russell's Envelopes.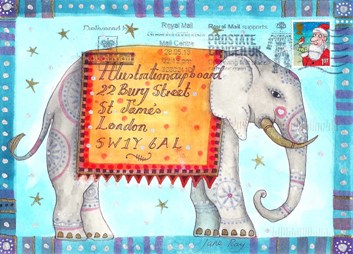 To celebrate the publication of Letters to Klaus, a unique London art gallery, Illustrationcupboard, is holding their own exhibition of quirky illustrated envelopes, from 11th to 26th June. So if you're looking for something a bit different to do in the next couple of weeks, I think I may have found it . . . after all, who can say that they've attended an envelope exhibition?
Sara Magness, Editorial Administrator