Last week, as part of Rachel Caine's UK tour to celebrate the launch of Fall of Night, I was excited to find myself back in my home country (well, technically 'principality') of Wales. After a brilliant event at Howell's School Llandaff, and a quick hop on the train to an equally great book signing at Waterstone's Bristol, I spent a lovely night and day in Cardiff, the city of my past student life.
Only the day before this mini-break, I happened to stumble across some Internet gold which made me love the city even more. I Loves the 'Diff is an online shop celebrating all things Welsh and Cardiffian, and their Taffywood greetings cards, designed to look like Welsh takes on classic novels or films, are genius: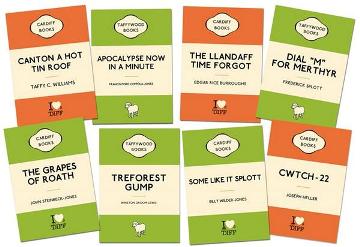 My favourites have to be Cwtch-22, Apocalypse Now In A Minute and From By 'Ere to Eternity. I'm now racking my brains for Welshified versions of my favourite reads – book puns, anyone?
Sara Magness, Editorial Administrator