A great part of working in publishing is hearing about the next big thing, the new rising star in the industry – although it turns out this time I already knew.
Back in 2013, I blogged about an amazing poetry launch I went to for Splitfish by Kiran Millwood Hargrave. Aged only twenty-six, Kiran already has three poetry collections under her belt and now she is causing a stir with her debut novel, The Girl of Ink and Stars. Chosen by Waterstones as their Children's Book of the Month, it is set for a meteoric rise along with the author herself.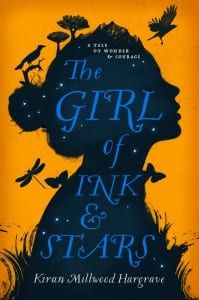 Seeing Kiran perform Splitfish in 2013, I think everyone in the room knew we were seeing something very special – Kiran's writing has a magnetism that pulls you and holds fast.
With glowing reviews pouring in and comparisons to Philip Pullman, I cannot wait to get my hands on a copy of The Girl of Ink and Stars. Get yourselves one too and watch this breathtaking talent set children's publishing on fire.
Sophie, Editor