CRIMEFEST 2012: Martin Edwards moderating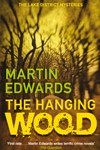 Thursday 24th May, 5.00pm-5.50pm CRIMEFEST: BRISTOL MARRIOTT ROYAL HOTEL
Martin Edwards, author of the acclaimed Lake District mysteries, will be moderating a panel entitled: 'Forgotten Authors'. He will be joined by John Curran, Peter Guttridge, Dolores Gordon Smith and Charles Todd. For more info visit Crimefest.