Could you take on 8 hours of Gatsby?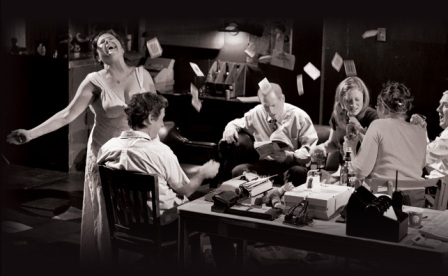 Many of you reading this blog will have studied The Great Gatsby, by F Scott Fitzgerald at school or read the book for pleasure and indeed may even have read it several times as one tends to do with classic books – rediscover them later in life to read them with a different perspective. You may have watched the 1970s film with Robert Redford, or be looking forward to the new Baz Luhrmann adaptation starring Leonardo di Caprio and Carey Mulligan (UK release December 2012). But the real question is: would you sit through eight consecutive hours of The Great Gatsby at the theatre?
For that it what is on offer at the Noel Coward Theatre – the entire novel, every single word of it, in the form of a new stage-production, entitled GATZ, by the innovative New York based theatre company, Elevator Repair Service. Before you envision a lone character sitting on stage delivering a tediously long monologue against a blackened background, the performance is actually set in an office and sees the main character, Nick, coming across a copy of the The Great Gatsby. And as he starts to read it out, slowly becoming more and more engrossed in the novel, his office colleagues gradually begin turning into the characters in the book.
An intriguing concept and one that, if I could find 8-hours of free time (which currently is proving impossible), might tempt me.  It certainly has received rave reviews from the press, and a thumbs up from a friend of mine who has been to see it.  After sitting through 49,000 words of The Great Gatbsy, my friend's verdict was unsurprisingly succinct:  'Grueling, but worth it.' 
So, would you GATZ it?
Chiara Priorelli, Publicity & Online Marketing Manager